Why do urban vertical farms go bankrupt? • EastFruit
One of the main reasons for the bankruptcy of vertical farms around the world was a lack of knowledge, said Jacopo Monzini, Senior Natural Resources Management Officer at the FAO Investment Centre, summing up the results of the global study on urban farming, carried out as part of a joint FAO and EBRD project at the online conference "Vertical Farms: Development Strategies, Business Models and Risks".
The study identified more than 800 sector participants in 95 countries, including 205 large and medium-sized farming companies, 218 technology and resource providers, and more than 50 investors. Various types of urban farms were studied, with an emphasis on the commercial side of vertical farming. As a result, a set of recommendations was devised for the countries of the Caucasus, Central Asia, and Eastern Europe, with which FAO and the EBRD are working.
According to Jacopo Monzini, those willing to equip a vertical farm should, firstly, be aware that the technologies and approaches used in vertical farming are rather specific and are still being finalized. In addition, there are no universal technologies. The full presentation of the expert is available at the link.
"For example, if you start growing a crop in a vertical farm, you will not be able to replace it later without significant investment (we are talking about commercial cultivation volumes), since the technologies are tailored to a specific crop. That is, if the crop does not live up to your expectations, you will most likely have to go bankrupt, as its replacement will require new, large investments," he said.
Jacopo Monzini stressed that knowledge is of key importance, and it is not enough to simply buy technology.
Read also: There is still little knowledge in the world on the arrangement of vertical farms – Kateryna Poberezhna (video)
"It is very important that you have experts – primarily, an agronomist who understands what, how, and why is happening. In addition, you should have employees trained to know all the features of vertical farming. Since such training is not yet done at the academic level, you will have to teach them yourself, and this is a big problem," he said.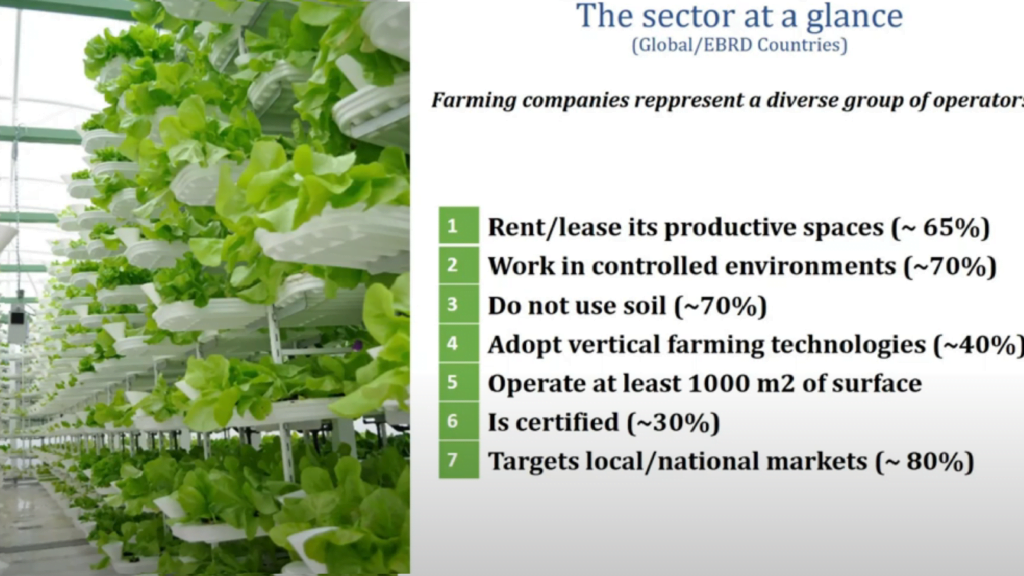 According to Jacopo Monzini, one should be aware that in the case of vertical farms, the cost of electricity, as well as labor, are limiting factors for profitability.
Electricity in vertical farms is needed not only for lighting, but it may be required for heating, cooling, or ventilation. In addition, a lot of electricity is needed to ensure the operation of the IT infrastructure (computers, sensors, etc.). These are huge expenses against the background of the increase in the price of electricity globally, especially if it is not produced in one's own household.
"For example, there is a large Italian company that has been engaged in vertical farming for the fourth year and is now implementing a project on 1 hectare. This entire 1 hectare is covered with solar panels, and they calculated that the electricity generated through them will cover only 10% of the needs," he explained.
According to Jacopo Monzini, 40% of the urban farms studied are engaged in vertical farming (farms with a floor area of 1000 m2 or more were considered). At the same time, in the countries in which the EBRD operates, there are several times more providers of technologies for vertical farms than the producers of such products themselves. It turns out that these are technology suppliers that earn money now.
Most urban farming companies grow leafy lettuces, and greens and some produce vegetables, mushrooms, microgreens, and berries. However, almost all companies that tried to grow berries on vertical farms went bankrupt.
Jacopo Monzini says that according to a rough estimate, investments in vertical farming amounted to about $5.8 billion this year. They are expected to exceed $10 billion in 2026. It is impossible to name the exact sum of investments in vertical farms – one of the reasons is that many companies invent technologies themselves, and it is very difficult to estimate the costs.
The structure of investors in vertical farm technology is diverse: they include venture investors, investment funds, individuals, retailers, banks, etc.
The amount of capital investment in vertical farms per square meter is many times higher than in open fields or traditional greenhouses. If investments in the field start from $0.5 per 1 m2, a film tunnel – from $8 per 1 m2, in the case of a vertical farm they range from $2 500 to 3 500 per 1 m2 (for one level). That is, if a vertical farm consists of 10 levels, the investment will reach $25 000 – 35 000 per 1m2. This does not include the cost of the building or its rent.
If we evaluate current production costs, their largest share in the case of a vertical farm, 67%, accounts for labor, and 32% for electricity. Whereas in traditional farming, 59% of the costs are water, 36% – labor, and only 3% – electricity.
The average cost per 1 kg of production in traditional farming is $0.56, and in vertical farms – $1.48, which is, almost 3 times more. However, these costs can be reduced by automating production, more efficient use of electricity, and improved technology.
During the study, retail prices for products were compared, too – data were taken from electronic platforms in 11 European countries. It turned out that the prices for products of urban farming, including vertical farms are much higher. The question arises – are consumers ready to pay a higher price for fresher products grown nearby, in a sustainable production environment?
Another issue is related to the emission rates of the production of carbon dioxide (which is being fought around the world). To date, vertical farms have relatively high CO2 emissions—for example, growing lettuce there is about as damaging to the environment as producing beef on a conventional farm.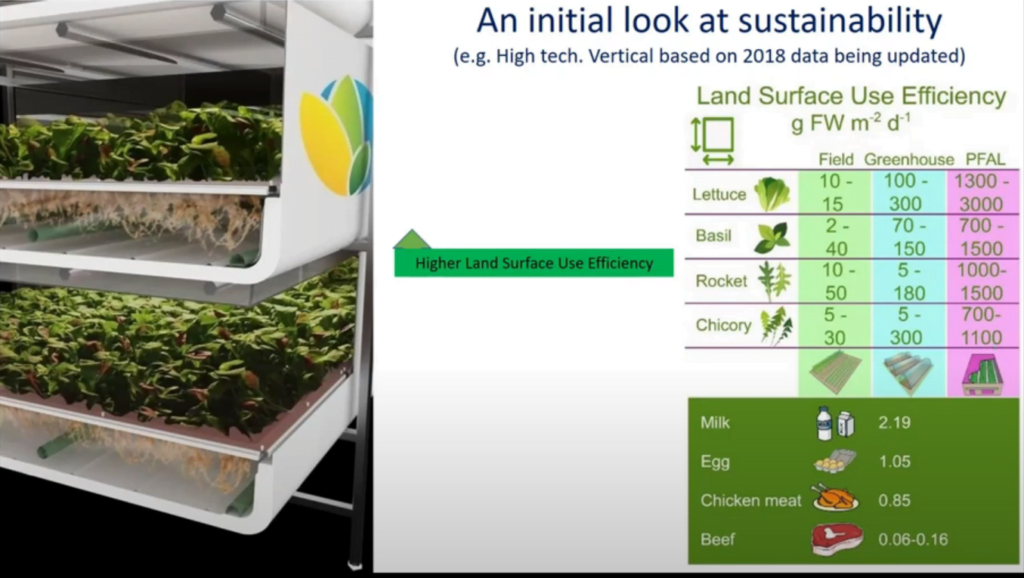 On the positive side, many vertical farming companies are striving to have their production based on renewable energy sources and energy efficiency. Water in vertical farms is used 70-80% more efficiently than in traditional farms. There are also obvious huge advantages in terms of efficient use of land," said Jacopo Monzini.
The online conference "Vertical Farms: Development Strategies, Business Models and Risks" was organized by the FAO and EBRD project "Climate-Smart Digital Solutions for Fruit and Vegetable Production" with the support of EastFruit and Sapienza Media.
EastFruit
---
The use of the site materials is free if there is a direct and open for search engines hyperlink to a specific publication of the East-Fruit.com website.