New Indoor Hydroponic Vertical Farm Will Grow Greens for Multiple Northeast US Cities | Agriculture Business & Agritourism News
An indoor vertical farm capable of producing seven tons of greens daily will open in northeastern Pennsylvania.
Crop One Holdings, which has vertical farms in Massachusetts and Dubai in the United Arab Emirates, has chosen Hazle Township, Luzerne County, as the first location of the 10 farms it plans to build over the next five years.
The company bills its Dubai location as the world's largest hydroponic vertical farm, with an output of three tons daily. The Pennsylvania location will surpass that mark when it begins production in 2024.
The farm, which will produce romaine lettuce and spring mix, will create approximately 40 jobs, including managerial and farm production roles.
Craig Ratajczyk, CEO of Crop One, said the new location in northeastern Pennsylvania checks all the boxes, as it's close to primary transportation routes, has an ample local workforce and is strategically located within a 200-mile radius of 50 million consumers in the New York, Philadelphia and Baltimore metropolitan areas.
"It is one of the densest populated places in the country, and this allows us to reach those consumers from a central hub," Ratajczyk said. "That's a critical component of this siting."
The company claims that its Plants-First technology platform allows them to grow leafy greens using 95% less water than field-grown produce. The building that will be home for the new location is a 316,000 square-foot structure in the Humboldt Industrial Park with 40-foot high ceilings that Ratajczyk said allows for increased volume.
The commercial-scale farm will primarily grow romaine lettuce and spring mix, serving retailers, food service providers and other partners located within proximity to the facility, ensuring produce is packaged and on store shelves within 24 hours.
Ratajczyk said Crop One's proprietary growing method focuses on processing water in combination with its own nutrient base that results in the removal of contaminants, including PFAS, also known as forever chemicals.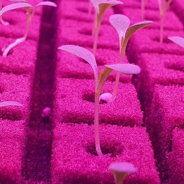 The location, he added, will also help lessen the impact of any supply chain issues for retailers.
"We know there's a massive trend for people to move to urban areas, and those population bases are going to continue to increase," Ratajczyk said. "Wouldn't it be wonderful to have food produced right down the road from those urban centers, rather than it being brought in from 1,000 miles away?
"If you're a retailer, it's such an extreme risk. Now, the food is produced right on your doorstep."
A long-term lease for the space has been negotiated with PNK Group. Crop One is also working closely with CAN DO, an economic developer in northeastern Pennsylvania, on facilitating relationships with local businesses and organizations.
Crop One currently operates a farm at its headquarters in Millis, Massachusetts, which has been in continuous commercial operation since 2015.
Russell Redding, Pennsylvania's agriculture secretary, said controlled agriculture systems, such as Crop One, help diversify the state's $132.5 billion ag industry.
"These new job opportunities feed our economy and bring people with different abilities and skills to the table, putting climate-smart technology to work to feed consumer demand for fresh, local produce," Redding said.