Houseplant Travel to South Africa –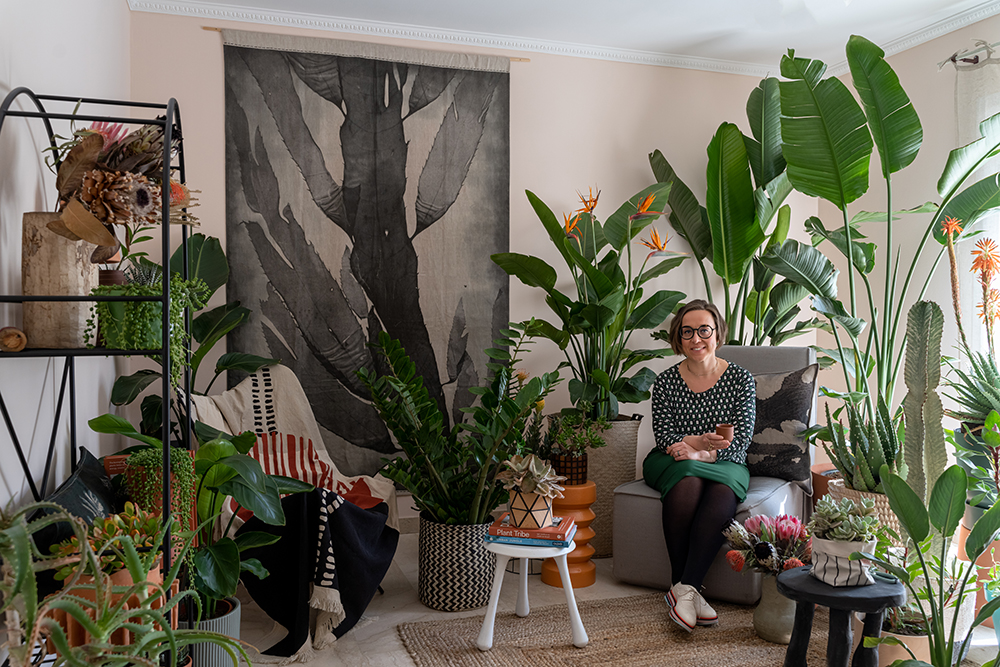 While there is hope and optimism on the horizon as the easing of lockdown approaches, there's still uncertainty about the possibility of travelling abroad this year. According to the Amex Trend report, people are missing travel so much that it's taking an emotional toll and impacting their wellbeing, with nearly half (48%) of respondents citing that not being able to travel makes them feel anxious and stressed. We partnered with The Joy of Plants for our latest project to reveal how you can transform your home with houseplants to immerse yourself in another country, even if you're planning a staycation at home.
The solution? Armchair travelling. The concept of armchair travel involves experiencing faraway places from the comfort of your own home – whether that's reading a book, watching a documentary, or listening to the music from a particular country to immerse yourself in the sights and sounds without stepping a single foot outside your front door.
With many restrictions still in place and no sign of them easing soon, we want to showcase the power of Houseplant Travel. Houseplant Travel involves embracing native houseplants from countries across the world and pairing them with signature interior design trends to transform a space in your home and transport you to the shores of a faraway destination. Creating two distinct and beautiful looks, Igor took inspiration from Brazil while Judith chose South Africa. We both authentically capture the flora and style of each country, with houseplants firmly in the spotlight. Let's kick off with our second destination: South Africa!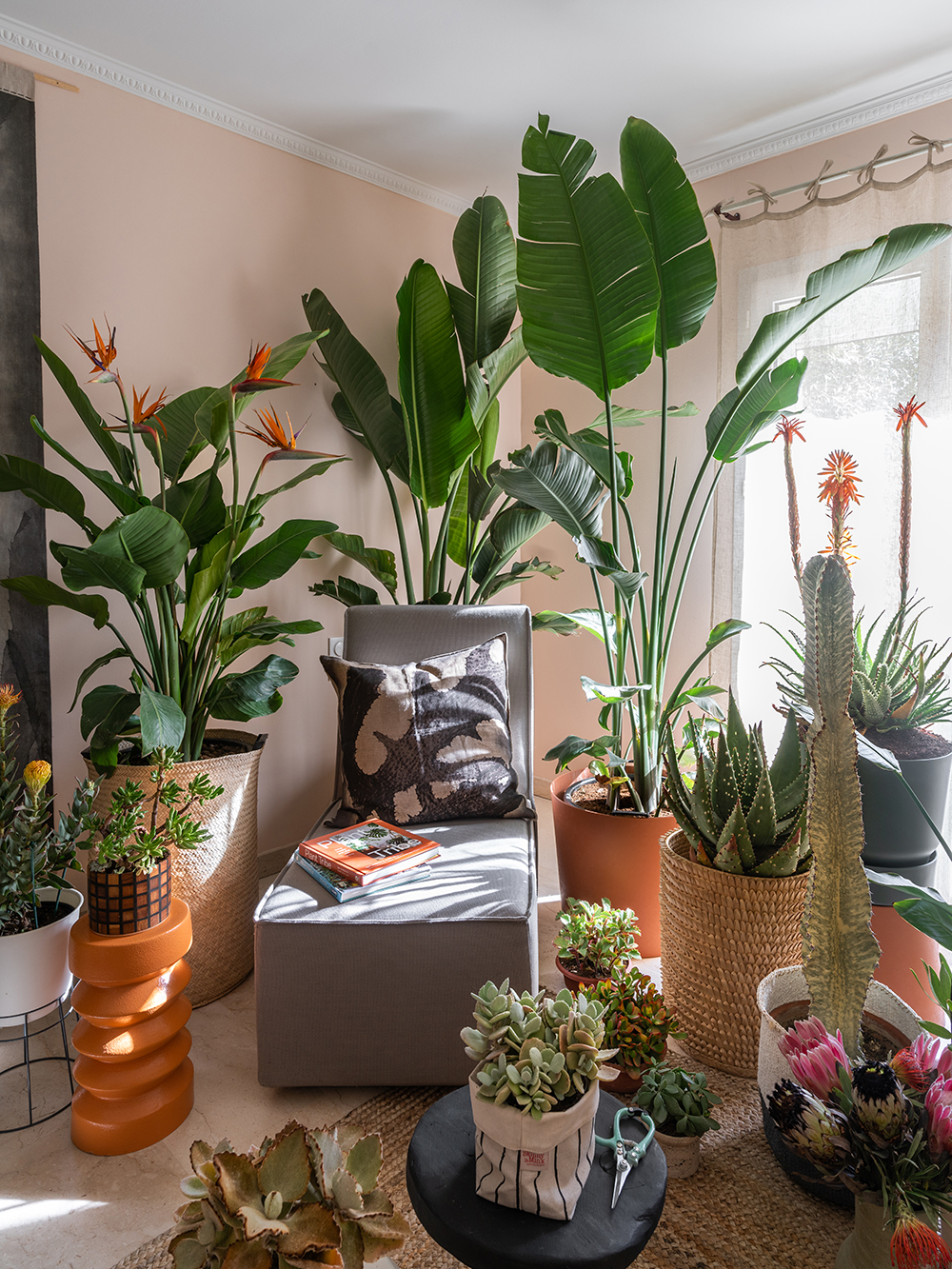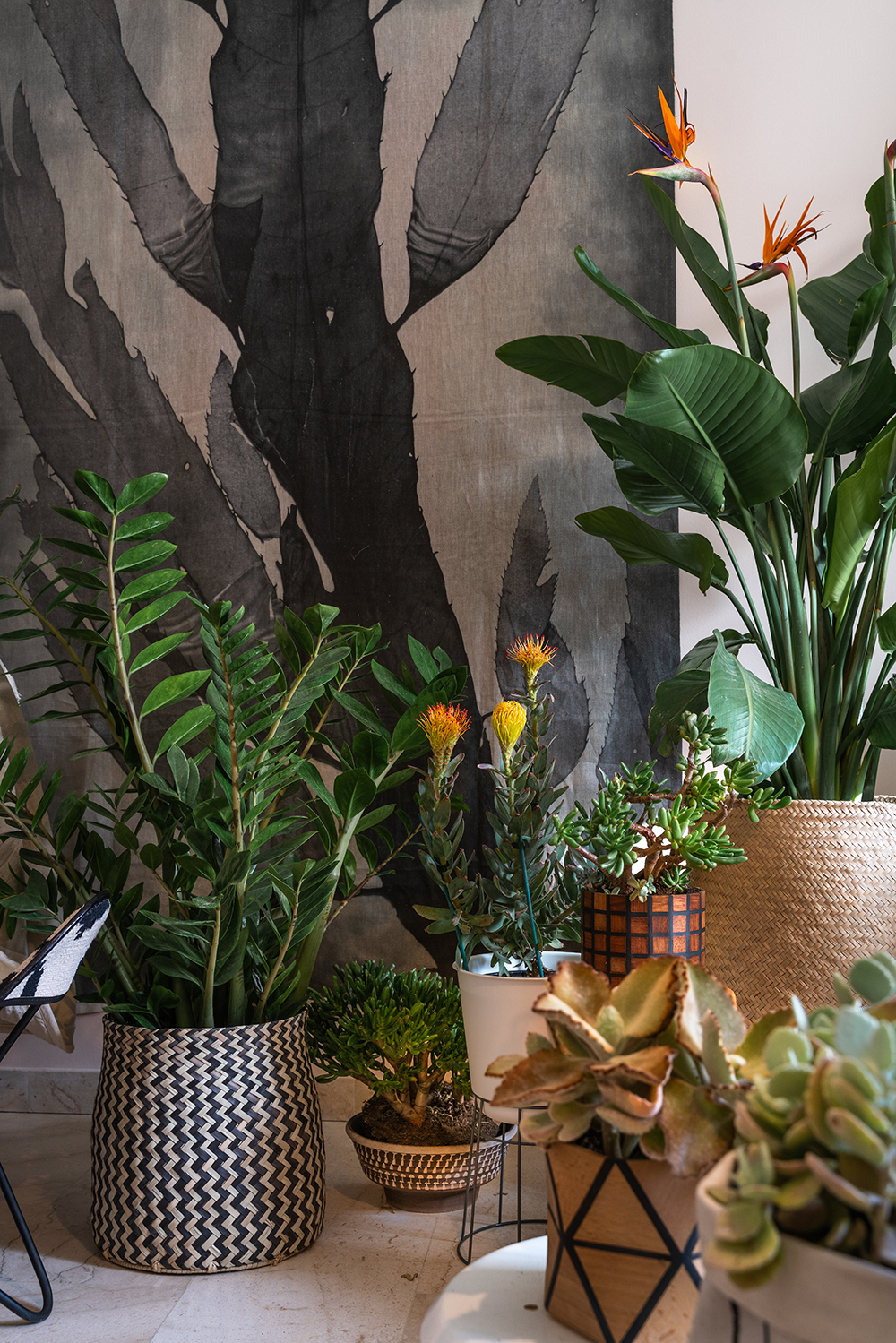 Can you tell us more about the look you have created?
JUDITH: For this look inspired by South Africa, I turned our guestroom into a cozy lush jungle. A place where you can sit down, chat, read a book and enjoy being surrounded by all the different plants from South Africa. A comfortable place with beautiful textiles and natural materials like linen, jute and cotton and a lovely plant shelfie with some smaller plants and handmade terracotta items.
What inspired you to choose South Africa?
JUDITH: When I think of travel, I instantly think of lush plants like palms, banana trees and plants with big leaves like Strelitzia. Strelitzia is a genus of five species of perennial plants that are native to South Africa, so that was my starting part. Being born and raised in the Netherlands, hearing South African slang in Afrikaans always makes me smile. And then there is contemporary South African design: it's such an interesting mix of graphic shapes and craftsmanship. Styling this cozy jungle made me want to travel to South Africa even more!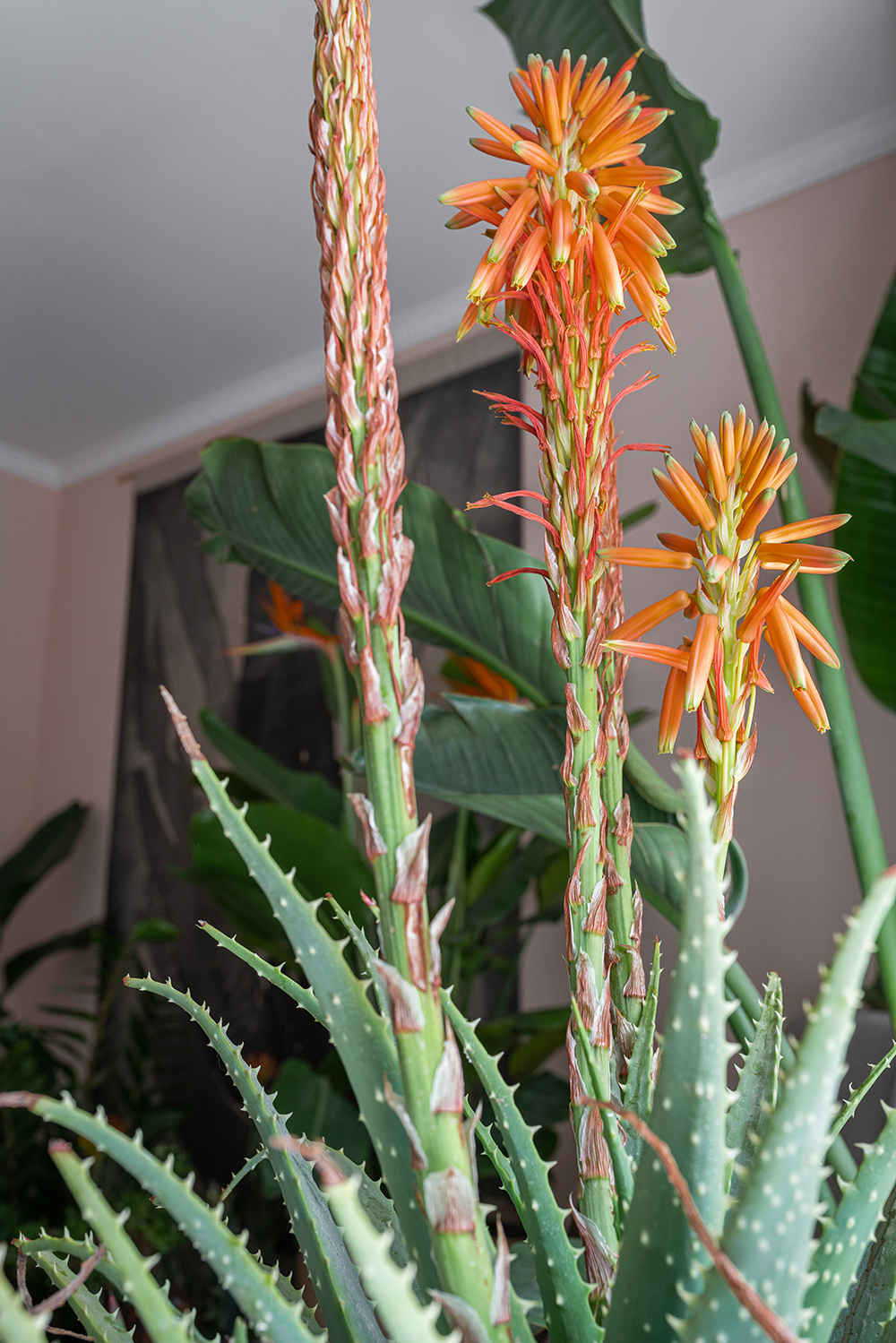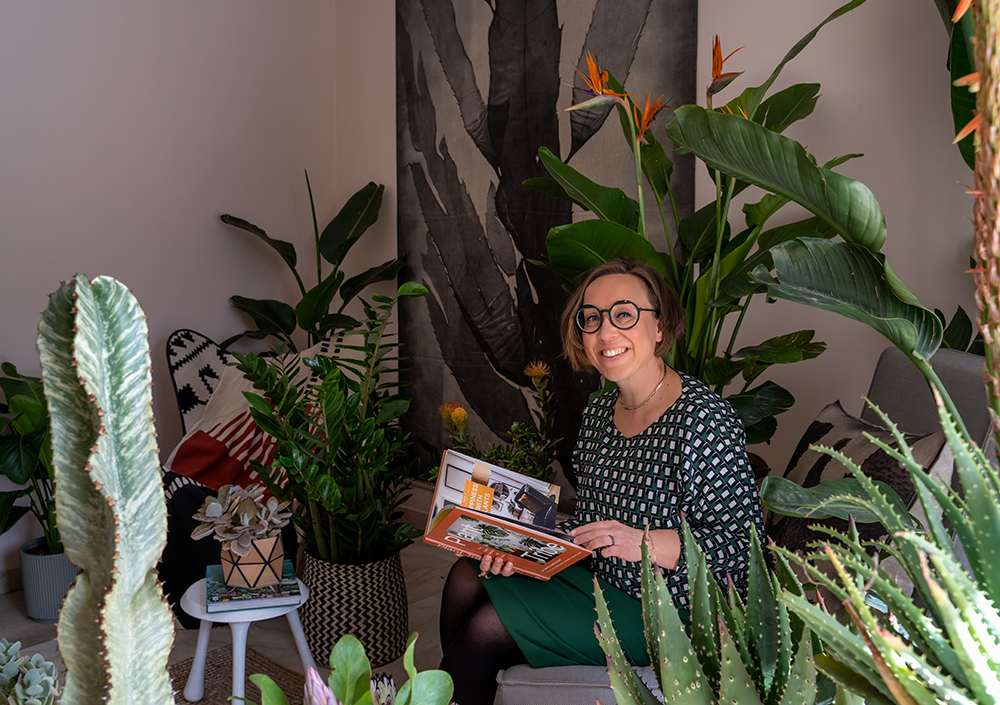 What are your favourite houseplants to feature in the look and why?
JUDITH: My absolute favorites in this look are all the Strelitzia plants, the augusta, nicolai and reginae. I love their elegant leaf shapes and hard to miss: their cool tropical Bird of Paradise flowers! Another favorite is the Protea, the national flower of South Africa, that grows on small bush-size plants that thrive on sunny balconies or in the garden. And once the flowers are wilting, Protea also look really nice in dried bouquets.
How are elements of South Africa reflected in the design and styling?
JUDITH: South Africa is represented in almost all the items in the final styling!
The large wall panel is the centerpiece of the room: it's a beautiful linen piece designed by South African designer Amanda du Plessis for Evolution Product.
It features an image from a rare book of historic pressed Sea Algae from the South African oceans by William Tyson, from 1908. The handwoven baskets for the Strelitzia, ZZ plant and Aloe aculeata were also created in South Africa: for the ZZ plant I picked a basket with a black & white zig-zag pattern and I love how the porcupine structure of one of the other baskets, made of palm leaves, matches the spikes of the Aloe aculeata.
Contemporary textiles from South African brand Skinny LaMinx complete the look
.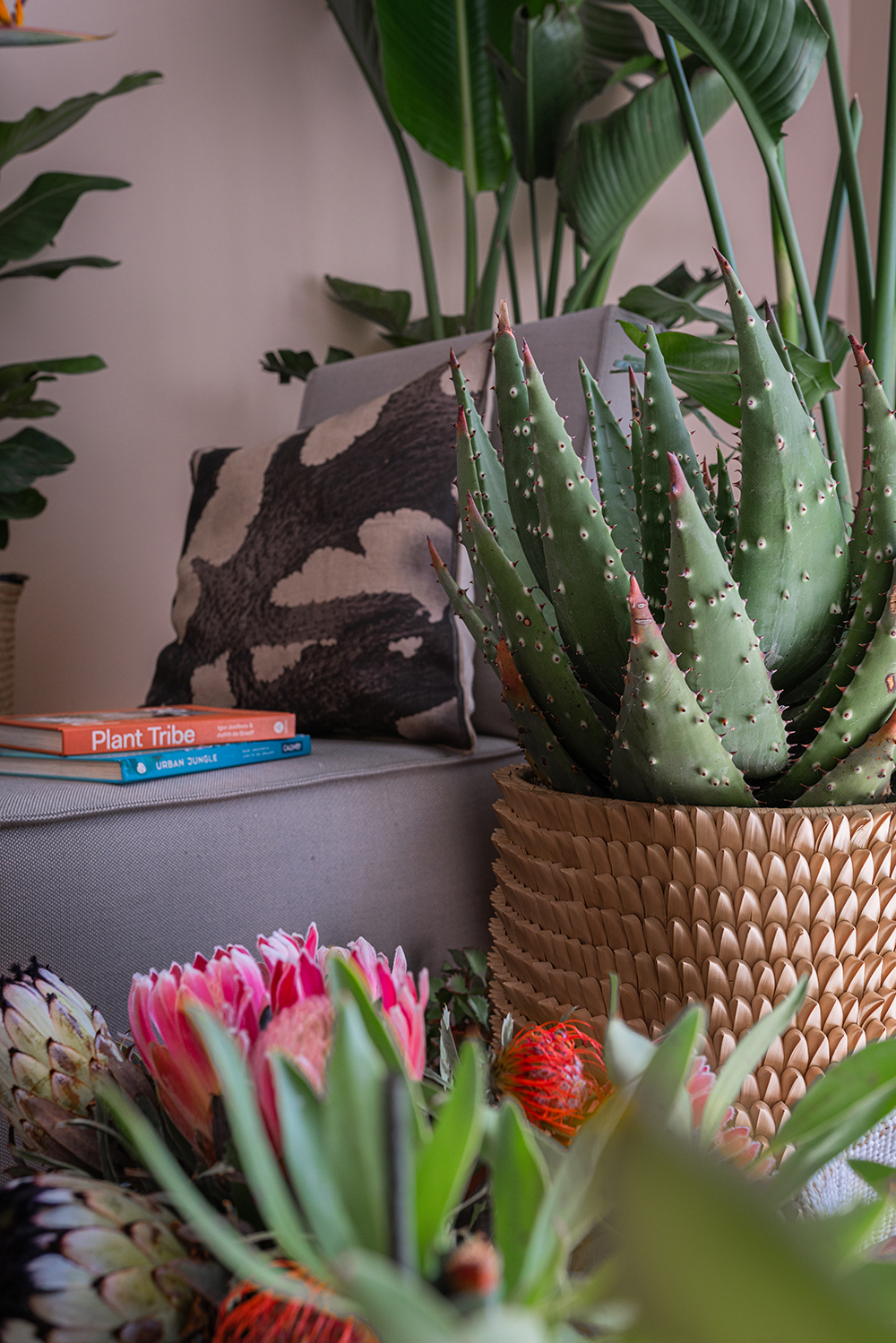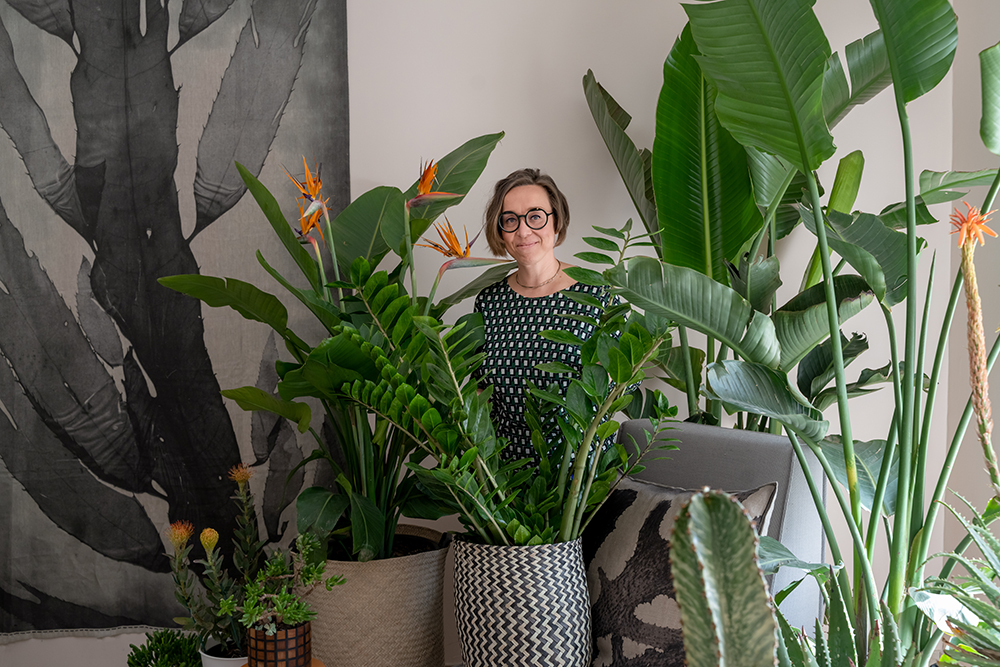 What is a unique feature or quality of houseplants native to South Africa?
JUDITH: When working on this project I realized there is such a big variety of plants that are native to South Africa: who would have thought that a String of Pearls originates from the same country as an Euphorbia ingens? I think their best quality is that South African plants are a good mix of very common and very exclusive plants: for example plants like a Kalanchoe rotundifolia or Zamioculcas zamiifolia are easy to find in most garden centers here in Europe, but then you have more special species like the ZZ black raven or the soft velvet-y Kalanchoe tomentosa. There is something for any plant lover!
What is your top styling tip houseplants native to South Africa?
JUDITH: Pair your plants with graphic and outspoken shapes, both in patterns on textiles and woven baskets, as well as in small furniture like stools and plant stands. Keep your colour palette limited to black and white/beige neutrals. Then let the orange hues of the handmade terracotta pots, and the bright orange Strelitzia and Aloe blooms add a vibrant pop of colour to your South African urban jungle.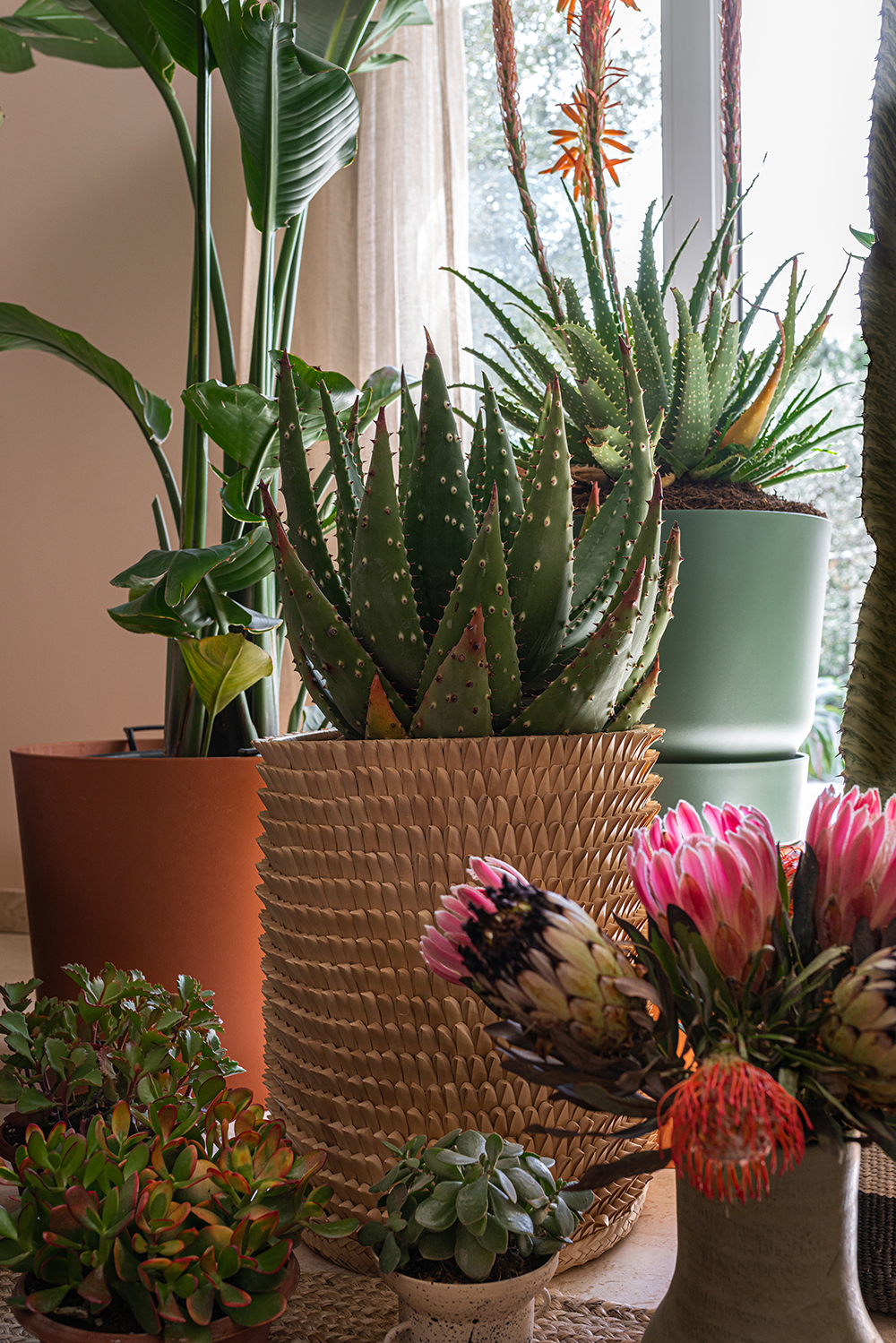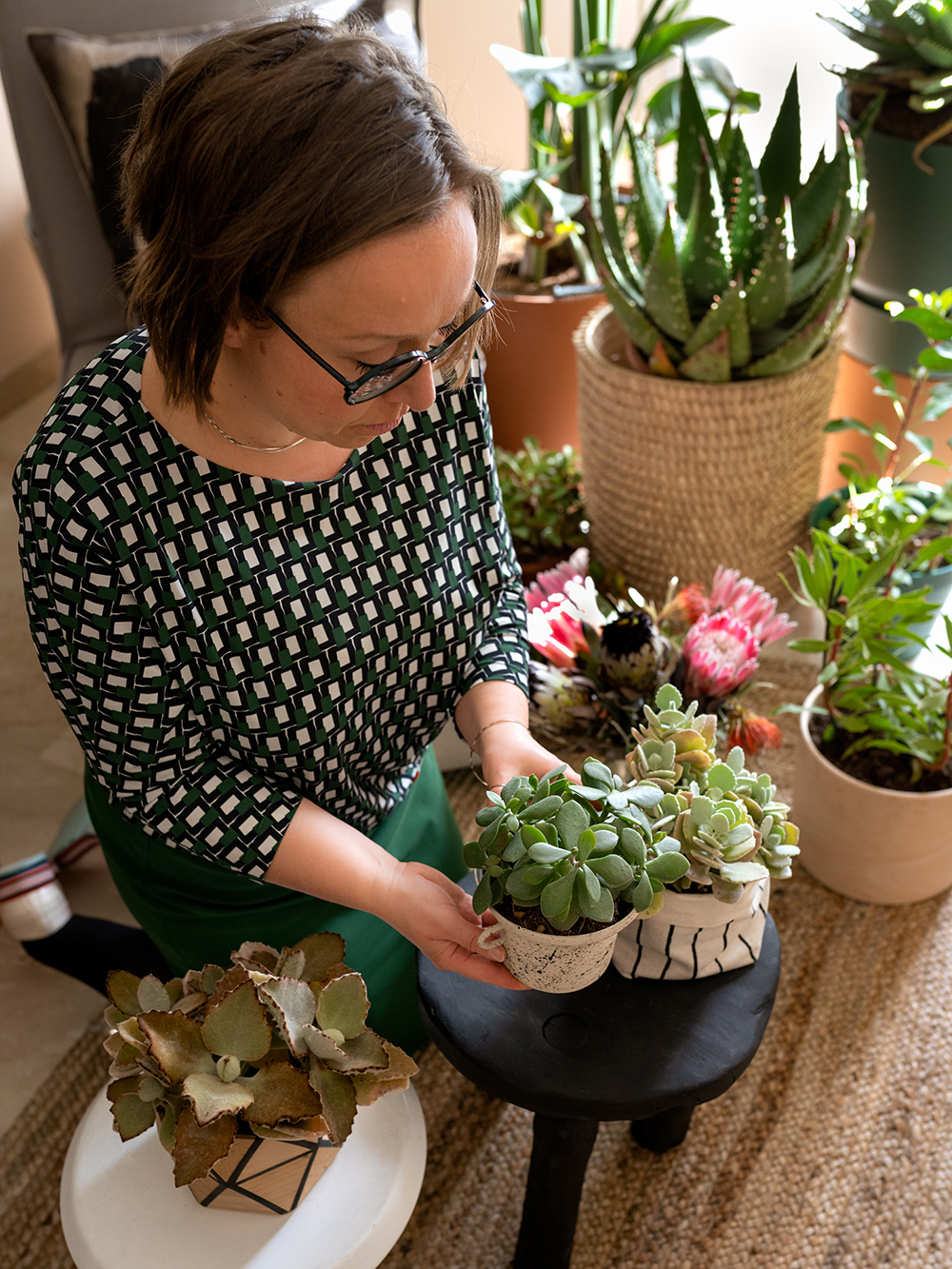 What is your top care tip for houseplants native to South Africa?
JUDITH: Most South African plants love sunshine. Keep your plants close to a sunny window, or place them in the window sill. Once the temperatures go up, take your plants outside if you can, and let them soak up some well-deserved sunshine! Just make sure they don't get a sunburn, move them gradually towards more light. Also, try to propagate your ZZ plant: simply cut off a branch at the base of your plant (with a clean knife) and place the cut stem in a small vase with water. Change the water every few weeks, and make sure there is no mold growing. Place the cutting near a window for bright indirect light. When your cutting has grown a rhizome and at least 4 cm of new roots, it's time to repot!
In your opinion, how do houseplants help us 'travel' and achieve that holiday feeling from home?
JUDITH: Especially right now, when traveling is nearly impossible, bringing in one or more extra large plants that add an instant jungle vibe to your home, is a game changer. Also, spending time taking care of your plants, truly helps to unwind and relax, whether it's from a busy day on Zoom, or a hectic day at the office. A mini break that helps to nurture your well-being as well as your creativity. Almost like a little holiday.
What would be your main advice for those wanting to recreate this look at home?
JUDITH: Start big! Maybe don't go all out with dozen of plants like in my South African nook, but go for one (or two) big mature Strelitzia plants. Find them a beautiful plant pot or a handwoven basket that hides the saucer, add a stool with a cool zig zag shape and place it next to your favorite lounge chair or sofa. Offer yourself one Protea flower, or a bouquet, just for the sake of its beauty, pour yourself a drink, grab your favorite book, feet up and enjoy! Or even better: veel plesier!
If you could choose another country to (houseplant) travel to, what one would it be and why? 
JUDIT: If I could hop on a plane right now I'd go to Arizona or Mexico to admire all cacti in their natural habitat. The variety of cactus plants growing there in the wild is mindblowing and I would love to see it with my own eyes one day. Cacti are probably my favorite plants and are such cool creatures that survive in such hostile environments by minimizing any waterloss. They store water inside their body and their skin's waxy coating helps retain water. Most cactus spines function as condensation collectors, not just to keep nozy human fingers from touching them 😉