An Albany Park Farm Serving Refugee Families Is Looking For Greenhouse Space To Extend Growing Season
ALBANY PARK — A nonprofit that transformed a vacant lot into an urban farm for refugee families is looking for someone who can help it get a jump start on growing season. 
The Global Garden Refugee Training Farm launched in 2012 and has allowed refugee families to grow food for themselves and to sell and provide to restaurants, food pantries, farmers markets and wholesale. 
The training farm has 96 farm plots and space for six incubator farms, Director Linda Seyler said.
But the nonprofit is limited by Chicago's short growing season and is looking to partner with someone in Albany Park or Rogers Park who has available greenhouse space, Seyler said. 
"Because the growing season here is shorter than the growing season that some of these crops require, we can't put seeds in the ground yet," Seyler said. "They'll die of frost before they produce a tomato, a pepper or an eggplant."
Seyler is asking anyone with a greenhouse interested in working with the nonprofit to email her at globalgardenfarm@gmail.com.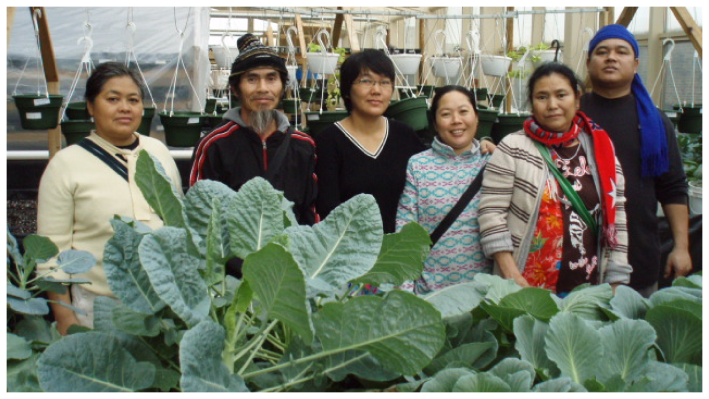 The nonprofit used greenhouse space at Gale Community Academy in Rogers Park after the organization launched, but the group outgrew that space, Seyler said.
The nonprofit bought seedling transplants from the greenhouse at Montalbano Farms in Sandwich for three years, Seyler said. But Montalbano's owners retired and sold the business about two years ago, which left the nonprofit without a reliable and affordable source of seedlings, Seyler said. 
The nonprofit has been been searching for greenhouse space while buying transplants from other sources with its tight budget, Seyler said.
"But that can be hit and miss based on the prices and the quality of the seedlings," Seyler said. 
The longterm goal is to have dedicated greenhouse space where families can learn to grow crops that would otherwise die during Chicago's frigid months, she said.
"Greenhouses are new technology for most of our farmers. It can be a bit of a revelation to them to go inside to start tomato seeds indoors when there is still snow on the ground," Seyler said. 
An ideal partner would allow the nonprofit's families to be hands-on as they start their seedlings in the greenhouse before transplanting them to the Albany Park, Seyler said. 
The nonprofit is also looking for more farming plots for families and incubators to grow more crops, in addition to hiring an intern, Seyler said. 
"Some of the families are cool with what they've got because they've got other responsibilities like a day job and kids," Seyler said. "But a couple of the other farmers want to do more but we just don't have the planting area to give them. We'd love to expand."
Listen to "It's All Good: A Block Club Chicago Podcast":